Here's what I teach the teams we work with: every lead won't convert to a happy client, but every lead certainly has a defined value. You determine that value with your efficiency in converting them to the next stage in your real estate sales funnel. As an example, wouldn't you like to know that for every 82 people you speak with, you get a sale?
If Agent A received 10,000 leads and converts them into 200 appointments and Agent B converts her 10,000 leads into 100 appointments, you can determine that Agent A makes here leads twice as valuable.
Looking at this from the perspective of a team leader, you're getting more value out of the leads you're dishing out to Agent A. You should find out what she's doing and help implement it across your entire team.
So let's talk about converting those leads into appointments.
Tip #1: Track Your Sales Performance
Any discussion of optimizing your sales funnels is irrelevant if you don't track performance. Every time you contact a lead, you should log it somewhere. When you go to an appointment with one of those contacts, you should record that as well. Using a spreadsheet to track is better than nothing, but it's clunky and inefficient. You'll know your data better if you're tracking it from our Sisu mobile app (download here).
When you start tracking, it's important to define each metric for consistency across your team. You can define them however you'd like. Here's how we do it, for reference: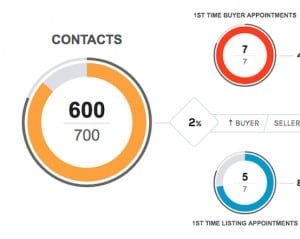 (Image (left) shows what tracking of contacts to appointments and the conversion ratio looks like in Sisu)
We define a contact as a conversation with a lead about buying or selling a home. As long as there's communication from both sides and the agent has the opportunity to offer her services, we count it as a contact. Could be on the phone, in person, email, text, doesn't matter. What's important is that the effort is made and received.
We also track appointments when they are fulfilled, not scheduled. As soon as you get out of a meeting with a client (where you're trying to sign a buyer/broker or listing agreement), count it as a first-time appointment.
Tip #2: Understanding The Buyer's Journey
Think like a buyer.
According to Market Leader, a typical buyer's journey can last around 30 months with five different stages: Consideration, Online Research, Active Search, Transaction, and Post-Sale
Quickly diagnosing their stage of the journey is a trait of excellent prospectors.
If they're in consideration, they won't push too much―they'll set them up with email alerts for a few houses they might be interested in each week or on the listing side, will schedule a follow-up in their CRM for at least every 30 days..
If they're in the active search phase, the agent will set up some showings with a Buyer or prepare a CMA and meet with the Seller. They understand that they're in the decision phase for committing to an agent.
Get what I'm saying? You can't add value for your clients if you don't understand them.
Tip #3: Move Quickly
Equally as important is the time it takes you to contact a lead.
Check out this statement from a study published in the Harvard Business Review:
"Firms that tried to contact potential customers within an hour of receiving a query were nearly seven times as likely to qualify the lead … as those that tried to contact the customer even an hour later—and more than 60 times as likely as companies that wait 24 hours or longer."
Some of the best team leaders in the business utilize call center services for this reason. When a lead inputs their information on the website, they are contacted and qualified within minutes. These leaders know that every minute reduces your chances of getting the business.
Team leaders and agents should always consider timelines when contacting potential customers.
Tip #4: Switch Up Your Communication Methods
There are all kinds of ways you communicate with your friends. Why should real estate be any different?
Imagine if you were stuck with just one method―cold calling. You'd be missing out on all kinds of angles that you could use to get in touch with potential customers. Yet some real estate agents fail to think outside the box. They hit the phones all day with only a fraction of the success they could be having.
Think like a marketer here. You have multiple social media platforms, email, and text all at your disposal. You can share engaging content on Facebook (such as a market report showing how great of a time it is to sell a home), engage with contacts post-phone call with a text message (interesting study about that here) and use email lists to quickly reach a large audience.
It's really about doing the research, understanding each of these communication platforms, and getting creative with how you contact leads.
Tip #5: Quantity Over Quantity (Over Quantity)
The only way to improve quality is with more quantity. The more leads you contact, the more sales you're going to close. Period. I see a lot of agents talk about how committed they are and how great they are going to do, but when it comes down to it, they won't pick up the phone. Almost always, if an agent will talk to at least 20-25 people per day, they will be successful. It's very easy to see on our Sisu dashboards where the breakdown is for those who are struggling.
The best way to get better at contacting is to do it over and over, trying new things, and tracking and analyzing your results. Make it a game because that's what it is. The more you play and the more you practice your scripts, the better you get.
Once you and your agents become expert prospectors, that's when the real estate business gets fun. That leads to expanding your team, adding showing assistants, and much more top-line revenue.
It all starts with setting goals and implementing a system to track progress.
In short, use Sisu daily and this will happen for you.
‍