There is a process that I've found very common with real estate teams across the entire industry.
They need a hand off point between the agent and the transaction coordinator or admin staff. A lot of times it's because the agent needs to get them in the loop so that they can kick off the process of managing the transaction or reporting on it for forecasting purposes.
In the old days, it happened with paper forms. Then, teams found out they can do better. So they built electronic forms that would link to their spreadsheets and (kind of) tie into their reporting, although requiring a lot of manual work and data massaging.
Here's a few examples of these trigger points where a form may be used:
The agent signs a buyer-broker agreement and fills out information about the new deal (for forecasting purposes, leading teams want to know how many buyers they have signed and the potential volume amount if they were to close)
The agent schedules a listing appointment and fills out a form detailing things such as previous MLS listing number and client information so the admin team can prepare a pre-listing packet including the listing agreement.
The agent signs a new listing and fills out a form detailing things such as the client's name, address, go-live date, and other information about the listing.
An offer is accepted and the buyer/seller is now under contract to purchase the property (pending).
And the list goes on.
But there's a big problem.
The "Leaky Bucket" Issue
When you ask your agents to fill out a form, you're asking them to go out and gather data. This is great. Data fuels your operation.
The problem is, once that data is sent off to the transaction coordinator, it might be used once to start the file. It might be duplicate-entered into a spreadsheet. Maybe you have it automated into a spreadsheet, but with all those forms? That's a lot of spreadsheets. It gets messy. And if you can understand this problem as a team leader, just imagine how your transaction coordinator and admin staff feels.
Your agents are gathering tons of data (unnecessarily) and your staff is having to (unnecessarily) massage, manage, and try to make sense of all that data. And throughout the whole process, valuable information slips through the cracks. That's why we call it a leaky bucket.
Tie All Of Your Forms and Reporting To One Central Database
Our solution has all of these forms flowing into one central database.
Let's follow a lead from start to finish under this process:
The lead starts in your CRM, where your agent does their regular prospecting. Once they mark the lead as "hot" (basically, once the lead has been qualified to buy in the next 30-60 days) it flows into the central database in Sisu. Data such as first name, last name, lead source, contact information and more flow right over with it.
Now, let's say the agent goes on a listing appointment with that client. Your process dictates that they report a listing appointment each time they go on one, so that you can understand the conversion ratio between appointments attended and listings signed. Rather than pulling up a form with it's own spreadsheet behind, you have them pull up the database in Sisu. They select your "listing appointment" form. All the data that has already flowed over from your CRM is auto-populated—they just have to fill in the blanks. What day was the appointment? Was it signed? What is the potential volume and GCI? These are all great questions that you can create as part of your form.
Three days later, the lead calls back and wants to sign the listing agreement. Great! That is definitely something that will need to be reported so that the admin team can get it uploaded to the MLS, coordinate pictures, etc. So you'll have a form for that as well. Your agent will open the form, all the data from before will be auto-populated, and they will once again fill in the blanks. Your admin staff will be alerted via email and push notification that a listing was signed.
An offer is accepted on the home. You get the process—pull up the form, fill in the blanks. Additionally, if you have a transaction coordination system, you could automate all of the data from Sisu to flow right into that task manager so that you can manage the process there. You could even have it kick back into Sisu once that process is done. All it takes is a little creativity and some integration know-how (depending on your system, this can usually be done with Zapier or a similar integration service).
*BONUS: We are getting very close on a release that will allow your agents to upload signed documents into Sisu for safekeeping and for easy access from your admin staff.
All these processes serve to accomplish three main goals: save your admins considerable time and effort, capitalize on any data gathering that your team does (plug the holes in the leaky bucket), and to tie reporting to processes that your agents MUST do in order to get paid. Your agents MUST report signed listings in order to have that listing fulfilled—so why not tie that process to the reporting that runs your business? You'll drastically increase the accuracy of your numbers, and then be able to make better decisions using those numbers.
With all of this, your data will be residing in one central platform.
NOTE: The following details are all about how our system solves all of the problems we've outline above. If you haven't used Sisu before, you'll probably want to schedule a demo first. Schedule a personal demonstration with my team here.
How it Works in Sisu
If you're looking to set up the processes outlined above for your team, here's how you can make it happen.
You can edit the forms in your system by going to admin>team settings>forms. This is where you can create and name new forms. So you'll want to name it something intuitive that describes what your agents should use the form for (i.e. "Signed Listing Form")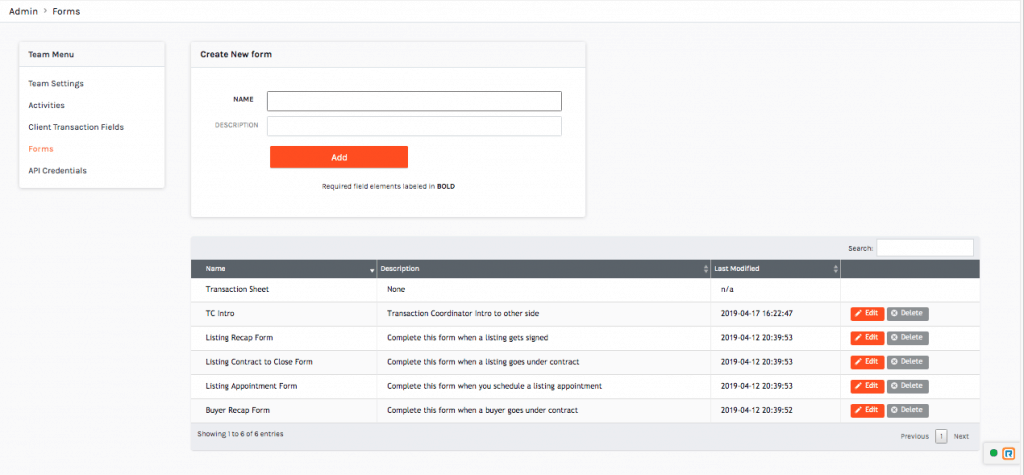 To change the fields that appear on these forms, select "Client Transaction Fields" from the left hand panel. You'll have a drop down to select which form you want to edit, and then you'll be able to drag over new fields from the right hand side and re-order them the way you want them to appear on the left.
NOTE: If you're missing fields, just reach out to our team and explain the field you would like added and what you would like it to track. Is it a drop down? A text field? We'll get it added quickly for your team.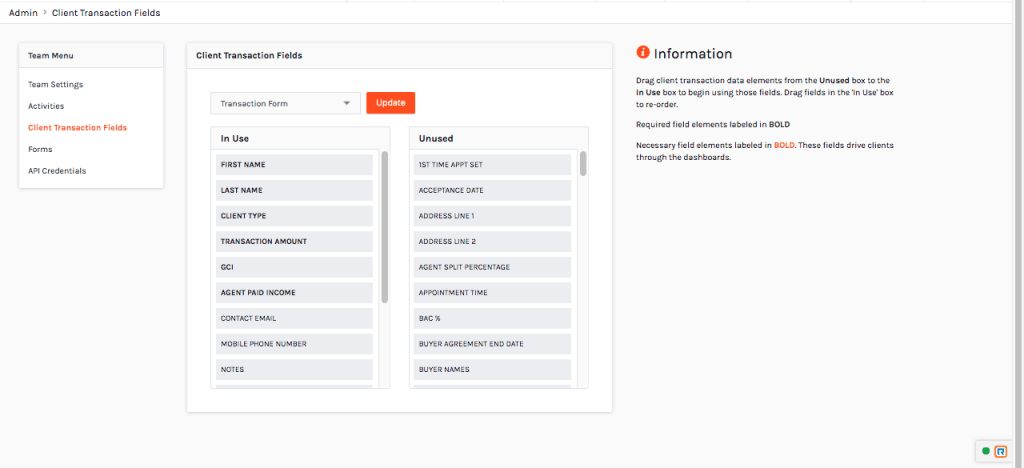 You'll want to instruct your agents to use these forms by logging into my.sisu.co and selecting the "my transactions" tab. They will search the client that they are working with by name (if it hasn't come into Sisu yet, they will want to add it in or send it over from your CRM). Once they click "edit" they will see your forms on the left hand side and will be able to select the one they want to work with.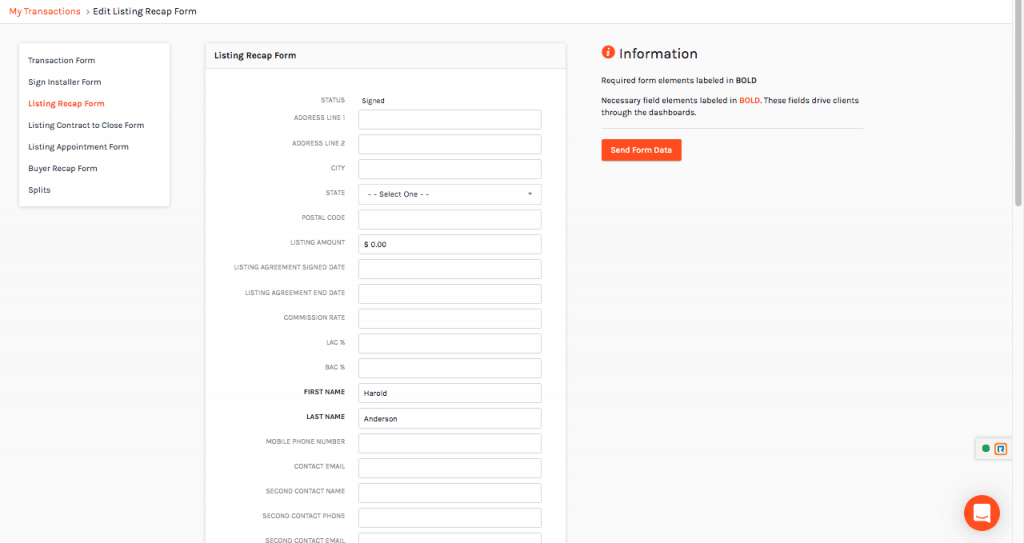 Alerting your TC of this information is simple. You can go to "admin>notifications" to set up custom alerts. For example, whenever a new "signed" date is entered for one of your listings, they will receive a push notification and/or email.

Another best practice is to have your agents manually notify the appropriate parties by using the "send form data" button. This will auto-populate the data into an email, where they can quickly add any notes (i.e. "I'll buy you lunch if you can get this home inspection scheduled pronto! :-)") and send if off.
Many brokerages and teams will also use this feature to send lead and transactional data to a lender, title company, sign installation company, home inspector, you name it. Rather than copy and pasting, they can just quickly fire off the data.
Perfect Data Requires Innovative Processes
You know that numbers run your business, but getting the perfect data isn't always easy. These processes that I've outline are a few of the many innovative ways to track your data that we've learned and built from watching the way our clients run their businesses.
If you aren't using Sisu yet but you would like to, schedule a demo with my team!
‍