Talk to any coach in the industry—every single one of them will take a similar approach to help you grow your real estate business.
They'll get you tracking your numbers and conversion ratios. Then, they'll leverage their unique experience to help you grow. The more they know about your business, the more they'll be able to help you.
Understand Your Business
The same goes for growing your business by yourself. The more you know, the more you'll grow.
This is something we've been talking about it for a while, too. You can check out my last post on converting more real estate leads into appointments.
Now, I want to take a look at how you can use this proven approach to convert more first time appointments into clients.
The coolest thing about real estate is that you run the show. It's your business, and you can build it the way you want.
No two businesses are the same. The way I built mine will be much different than the way you build yours. What works for me may or may not work for you. So rather than giving you a blanket list of tips to build your business, I'm more interested in giving you the process that will help you grow.
And here's the first step: find a way to track your performance.
I'll give you an example. Here's how we do it in Sisu: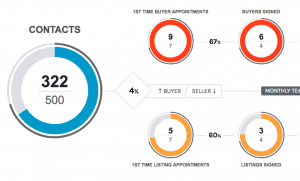 You're looking at a quick, clean picture of how many appointments this agent has gone on (buyer/seller) and their result.
You'll notice that this agent is converting on 67% of buyer appointments and 60% of listing appointments. All the data is pulled from a mobile application (which I'm more than happy to show you whenever you would like).
The bottom line is this: track your performance. If you can make a pen and pencil, whiteboard, or spreadsheet work for you, that's great—just track. Without tracking methods, any conversation about improving your business is like a client without commission: a lot of work for nothing.
Converting First Time Real Estate Appointments
With a method for tracking performance, we can start to diagnose the problem—why do some real estate agents have low ratios for converting first-time appointments into clients?
They've done all the work, grinding for hours on the phone to set up an appointment. The buyer or seller has agreed to give them their time. Why aren't they converting?
In my experience, it boils down to a few key factors.
My advice is to pick a couple of these things and start applying them in your business. If you're tracking your numbers, you'll start to see results. If you don't see results, keep applying more changes and testing to find what works.
How to Sign More Buyer/Broker Agreements
It's easy to get dragged into a 2nd or 3rd showing with a client without a buyer broker agreement.
It's also just as easy to get one signed. The conversation is straightforward and relatable for the client, even if slightly uncomfortable.
Here are my three hurdles to overcome:
Add value. Show that you are an expert who's very active in the real estate business. Clients often don't understand how the entire process will work, so you can gain a lot of credibility by setting these expectations. Reassure them that you'll drop everything to show them a house, and if you can't, you can arrange for someone from your team or a showing assistant to help. Show that you have access to valuable and rare assets (such as methods for searching/finding the perfect home, making sure they get the best price possible and in today's competitive environment, and making sure they get the home they want.)
Be transparent. Simply explain that you want to work for them full time and that signing an agreement will allow you to spend as much time as necessary on finding them the perfect home.
Ask and assume. Once you've addressed #1 and #2, it's clear that the situation will be a win-win. So ask for their business with confidence! Assume the close.
These three steps will help, but my #1 piece of advice for signing more buyer broker agreements is this: Ask for them.
How to Sign More Listing Agreements
Listings are a little more tricky. Clients have a lot more on the line when selling a home vs. buying one, so they really want to make sure they end up in a good situation with the right agent/team.
For me, it's the tiny things that make a difference.
Set the stage. There is a short period of time in which the seller will decide who is going to list their home. That means you're not the only one pitching to them—and you need to make yourself stand out. Start the sell as soon as you set the appointment. Get some details about their home and their motivation to sell. This will help you create a pre-listing packet with a competitive market analysis, differentiators of their home, and a listing agreement.
Have a screening call. This is to follow up on the pre-listing packet and, once again, determine their motivation to sell. The purpose is to discover any of their concerns and state that you'll address those first when you arrive. This gives you an advantage in addressing them and, often, you'll find that they are no longer concerns when you get there because the clients feel they've already been addressed.
Earn their business. Every single thing you're doing in this process is about the Seller. You're just a consultant, finding their needs and demonstrating how you will make sure they are addressed. Once you've done that, you can confidently ask them for their business. I always liked to ask "Do you feel I'm the right person to sell your home?" If the conversation went well, I already know the answer. If they are not sure, find out what is holding them back, address their concern, and then ask the question again. By doing this, with some practice, you will walk away from more of your meetings with a new listing.
Steady Growth
It's not about completely transforming your business overnight, it's about transforming your business every night—even if it's a tiny transformation!
When you understand all the key performance metrics for your business, you can constantly analyze and improve. You can try new things and measure their effectiveness. Slowly, you'll find what works, dial in impressive conversion ratios, and earn more money and freedom than ever before.
‍