My entire life, I've had an obsession to blur the line between work and play. It's easy to enjoy work when you're having fun.
I've found that competition is a great way to do this, whether I'm competing against someone else or against my own past performance.
Take a look at endurance athletes - marathon runners, for example. Many people admire them. Others wonder at what point in their childhood their mothers dropped them on their heads to make them want to run for enjoyment! Either way, they have a very desirable skill - they find real enjoyment in difficult, back-breaking tasks!
The driving force behind these impressive athletes is competition, both with themselves and with others. They enjoy the challenge and are addicted to the feeling of progression that comes from doing something new and difficult.
Many of my friends, family members, and I all share this same addiction, albeit at a much smaller level when we use Strava on our mountain bikes. They have gamified the sport and made it a friendly competition which drives people like me to constantly strive to improve. We developed Sisu to do for salespeople what Strava does for athletes.
If competition can make long distance running enjoyable, it can certainly create the same effect in a real estate sales environment.
Selling is difficult, but it can also be fun and extremely rewarding. I see so many salespeople who are more motivated by the reward and recognition than they are by the money. Great sales leaders find a way to blur the line between work and play, helping agents enjoy their hard work and motivating them to succeed at a much higher level. One of the best ways to do this? Sales contests. Sales contests motivate agents and blur the line between work and play if leaders can create the right competitive environment.
Here are some tips for running great sales contests.
1 - Make sure everyone knows the score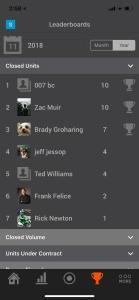 If there's no score, there's no competition. Study after study has shown that humans are naturally more effective when they're in the presence of one another - and even more so when they are competing against one another! (Check out our blog on the value of competition)
The scoreboard is the fundamental element of any competition, and we took that to heart in our latest product update. For example, we create scoreboards for the teams we work with that allow them to see real-time, easy access to their sales metrics online. Just login on our website and you'll arrive at your team dashboard. Here, you can see team and individual performance KPI's, Sisu Scoreboards and Leaderboards, and accountability reports for each of your agents.
Leaders and coaches can use these scoreboards to plaster the score all over their office and create a competitive spirit. Your agents will always know who's in the lead and where they're standing. Trust me, they'll feel motivated to put in the extra effort to get on top.
2 - Take a look at the inner scoreboard
Scoreboards are great, but external standings shouldn't be your only measure for success. The great business strategy genius, Warren Buffet, teaches to focus on the inner scoreboard. The inner scoreboard means setting your own criteria for success and competing against yourself based on those standards. Of course it feels great to be the highest producing agent on a team, but what matters first is that you're personally improving as the months go by.
I recommend taking each of your agents aside and setting personal growth goals with them based on their past performance. If they are new to the business, this will keep their activities in line to make that six figure income their first year in the business. Sisu is key in doing an effective job in this because it tracks your historical data, allowing you to easily compare weekly, monthly, or yearly results while also rewarding you when you set personal records. By motivating agents to also compete against their past performance, you'll avoid creating a cutthroat environment and increase performance at all levels.
3 - Take a third look at the scoreboard
Ok, this is starting be all about scoreboards, but they're really that useful! The third aspect you should take into account is the team scoreboard and leaderboards. Set a goal that everyone on your team can work towards and, if they reach that goal, reward them together for the accomplishment. This goes one step further in creating the perfect competitive spirit and driving teamwork. We all know the power of a team compared to that of an individual.
Here's how you can really utilize Scoreboards and Leaderboards
Don't think about running a sales contest if you don't have a way to make it effective. We've all been a part of half-hearted competitions enough to know that nobody enjoys them. They're ineffective because they don't bring the right competitive spirit.
So, if I were to run a sales contest today, I'd use Sisu Scoreboards to create that competitive spirit on the three different levels - the leading sales agent based on sales volume or units sold, the agents who beat their personal benchmark (most improved), and exceeding the overall team goal. Agents need to see the score every single day by putting it on monitors in the office and sending out daily performance updates. Nobody wins when we don't keep score.
Then, I'd offer some great rewards - things that agents really want. Maybe I'd award the overall sales winner flights for them and their +1 to somewhere warm. For the agents who showed measurable improvement, some kind of electronic (wireless earbuds, iPad, etc). Finally, if the team hits their combined goal, I could raise their commission percentage the next month to keep the momentum going.
While great rewards might impact the bottom line a little bit, It's well worth it to reward your agents for their performance. Make sure to set your goals high enough that the contests pay for themselves and ensure growth in your business. The benefits of the competition go far beyond simply making more money. It's all about blurring the line between work and play to create an environment that agents thrive in. That will pay out in spades.
We will get more specific on sales contest ideas in the coming weeks.
‍