What's New in Sisu, May 2021 | System Platform Rankings, ISA Tasks and a Slew of Other Updates
Some of the updates in this months product updates revolve around a big use case we're seeing with our teams:
Sisu as the ultimate platform for managing pipeline.
The platform (very intentionally) is not a CRM.
But when you integrate it with your CRM, you start to pull in very important leads—leads that aren't quite ready to transact, but are very valuable for reporting.
We call this pipeline. Appointments, top 10 leads, hot leads, appointments set by your ISA and more all show up here.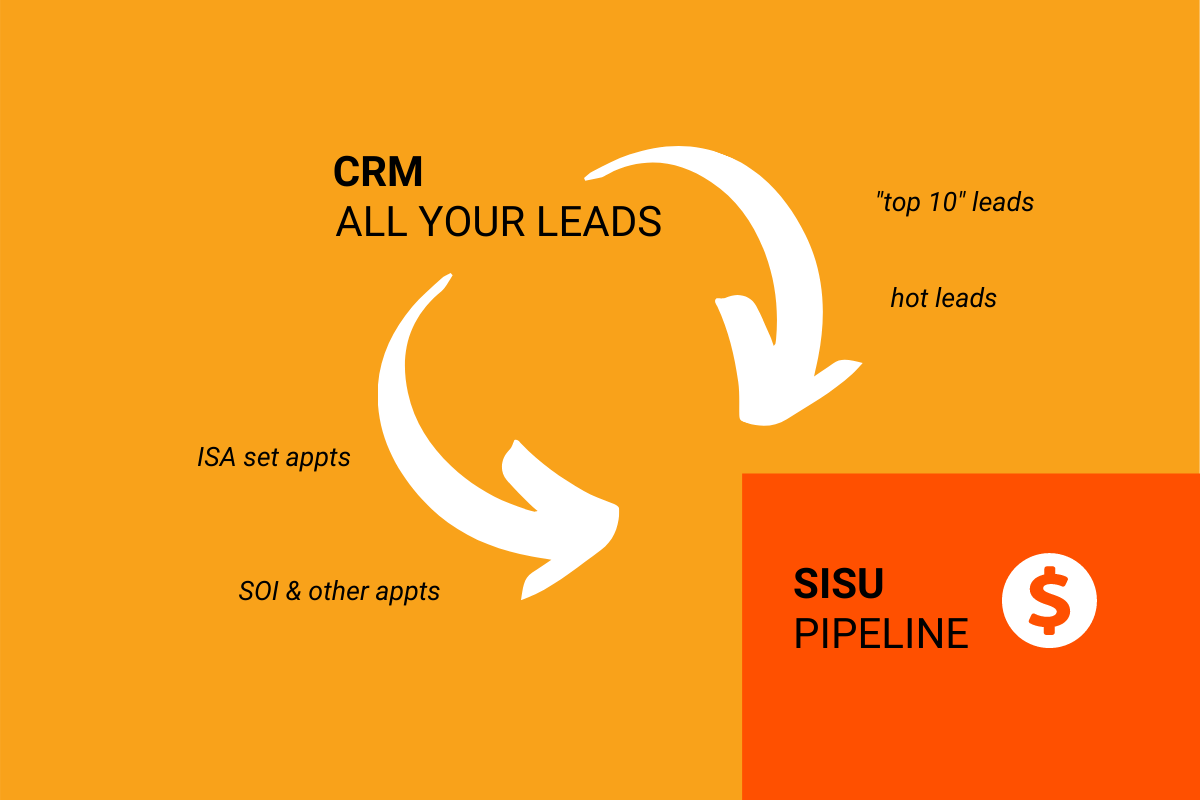 And Sisu users are coming up with some really cool ways to manage those leads and make sure they turn into transactions.
Triggering tasks that assign to an ISA & new "Appt Set For" date field
New updates in this release include allowing tasks from automatically triggered task lists to assign to ISAs, as well as adding a platform wide field called "Appt Set For" which tracks the date that the appt was supposed to be held.
Here's how this plays into the larger picture on how teams are managing pipeline in Sisu.
When leads come over from your CRM into Sisu, we pull valuable data such as:
The leads name and contact information
The lead source
The date that lead registered in your CRM
Who the lead is assigned to (or ISA'd by) in the CRM
Power users also add additional data into Sisu, specifically:
What's the forecasted value of the pipeline lead?
When do you expect the lead to transact?
This creates some awesome reporting and accountability about pipeline and what's happening with your most important opportunities.
But one of the ways Sisu users are elevating this functionality is to trigger processes that happen when those leads hit your pipeline.
So let's say you set up your Sisu stages to look something like this:

Where leads start out at the very earliest stage of "Appt Set", which is where they come into Sisu for the first time.
You could head over to admin>tasks>task lists and create a task list called "Appt Set".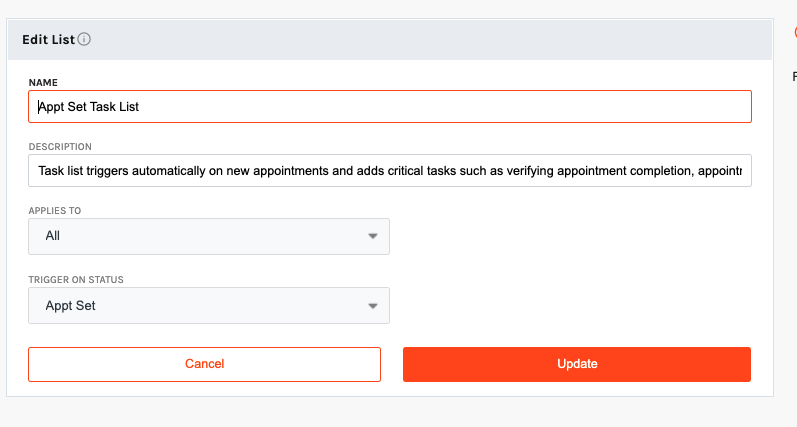 This list would trigger whenever an appointment is set. And it might contain tasks like:
Assign the listing manager to prepare a pre-listing packet, which is due 2 days before the date the appointment is scheduled for
Assign the agent to update the result of the appointment and next steps the day of the appointment
Assign the ISA to verify appointment completion 3 days after the appointment was supposed to be held
These are three very simple steps that create rock-solid processes around appointments. Which is important, because every appointment that slips through the cracks costs you thousands of dollars.
These updates help your team work together to improve your pipeline management.
Sisu Platform Rankings
Gamification has always been a part of the Sisu platform.
We've found that simply displaying a leaderboard for a given activity will increase that activity by 30%.
We've added a new feature in this update that will show you how your numbers stack up against the 22,000 other agents on the Sisu platform.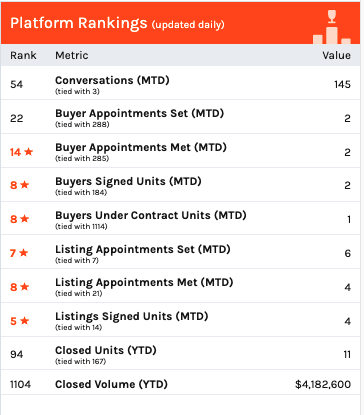 Here's how it works:
The platform rankings appear on the snapshot page (dashboard>snapshot) in the right hand corner
It compares the logged in user to the 22,000 other users on the platform for default platform metrics
Team rankings aren't available yet, although they're a possibility for the future
These rankings are private—only you can see them, and we don't publish them. They're simply to give you an idea for how you stack up
The question is, which metrics can you dominate? 📈
More dynamic date selections
We added a few more options for dynamic dates in the system, such as quarterly, 7 days in advance, 7 days back, year to date as well as year (total).
These are helpful for quickly running your numbers over a snapshot of time.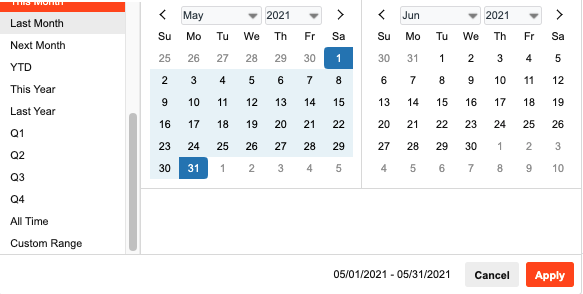 They can also be used to build custom reports in your transaction saved filters. So if you head to "transactions" and click on the filter drawer in the top right hand corner, you could build a filter that says "Show me all listings with an MLS live date of 'this month'" and save that as a filter to quickly refer back to in the future. It becomes a custom reports engine.
CDA Updates
From any transaction, you can click on "commission form" to generate a CDA.
We've made a few updates to how these CDAs are generated:
If you are in an escrow state rather than a title state, the CDA will populate with escrow information rather than title information. You'll just want to make sure you have the "escrow company" populated on your transaction form.
You can head over to admin>commissions>preferences to add some additional granularity to your CDA form. Particularly, you can include all of the line item adjustments as well as the "gross office commission" field.
Sisu users are using these CDAs for three primary reasons: 1) Sending to title/escrow for cutting checks 2) sending internally as commission breakdown slips and 3) some are actually forwarding them to email/document parsers which can feed the data right into an accounting system.
Restricted field access by form restrictions
In Sisu you can create different forms—which are different groupings and views of fields.
You create these forms from admin>team settings>forms and fields.
We've added additional functionality to restrict these fields to certain user types or groups.
So you could create an "admin only" form that is only visible to "admin" user types. This would allow you to put fields on that form that are only seen by administrative staff.
Additional custom field types
You can request custom fields by chatting our team on the in-app chatbox.
We can now support a new field type, hyperlink, which can contain a link that opens up to a webpage. This is great for attaching documents, record links in your CRM system and more.
We are very close on being able to support multiple-choice type fields. Basically, fields where you can restrict the values to a custom set of choices. We released some updates for this on this release, but are tweaking a few items before it will be readily available.