Here's a motivating thought for the day: to be massively successful, you don't have to come from an extraordinary background. You don't need to have one in a million experiences or opportunities that provide you with the incredible knowledge. There are plenty of people out there who have these things, and plenty of them are willing and desirous to share their knowledge. All you have to do is find those experts and learn from them.
In fact, some of the people I respect the most have become experts in multiple fields where the average person would take a lifetime just to master one. All of these people share an important characteristic: They are like sponges, absorbing the best knowledge and advice that life can offer. Rather than wasting time and energy to learn on their own, they find somebody who already has it figured out and learn from them!
In short, they are great students.
My Experience with Real Estate Coaching
Real Estate has a learning curve, but YOU determine how fast you're going to move through that curve. When I started selling, I wanted to become a top performer as fast as possible so that I could start teaching other agents to be great listing agents. I already had goals of selling over $10,000,000 in Sales Volume in my first year. I had plenty of energy and ambition to reach this goal, but, even though I had many experienced friends to answer my questions along the way, I knew that the occasional tip wouldn't be enough for me to become a top performer in a timely manner.
I needed an experienced teacher who could:
Help me set great goals - not just a goal for how much money I wanted to make, but also smaller goals that would be critical to my overall success
Analyze my processes and methods to help me reach those goals
Hold me accountable each week to the goals I set (This was huge!)
Keep me motivated
Leverage their experience to teach me how to work like a pro without wasting any time.
Most importantly, help me grow my business quickly and efficiently
Once I found the right team that could assist me with non-selling tasks, we found a coach who we believed could meet my expectations. Once we found that, paying the money for a weekly training session was an easy decision. I've always believed in investing in myself - there's no better way to spend your money and there's never a lack of return on investment for learning.
Even for me, the return was surprising. I had an incredible year and I feel like I moved through the learning curve exceptionally fast - not because of my own skill, but because of great mentors and coaches who were willing to share their knowledge with me. The investment in real estate coaching had an exceptional payout and I exceeded my goals.
Proven Benefits of a Real Estate Coach
Let's talk about the industry as a whole. Here's an Inman report that shows the proven benefits of hiring a real estate coach.
The report surveyed 997 realtors. Here are some of the results that I found important: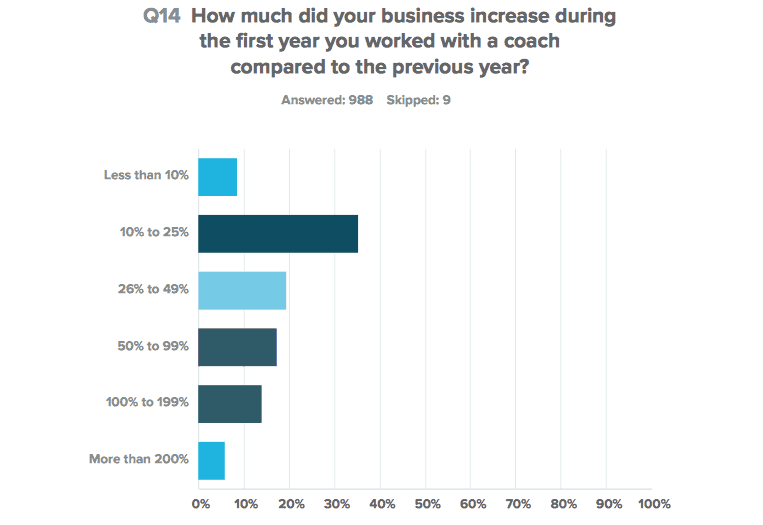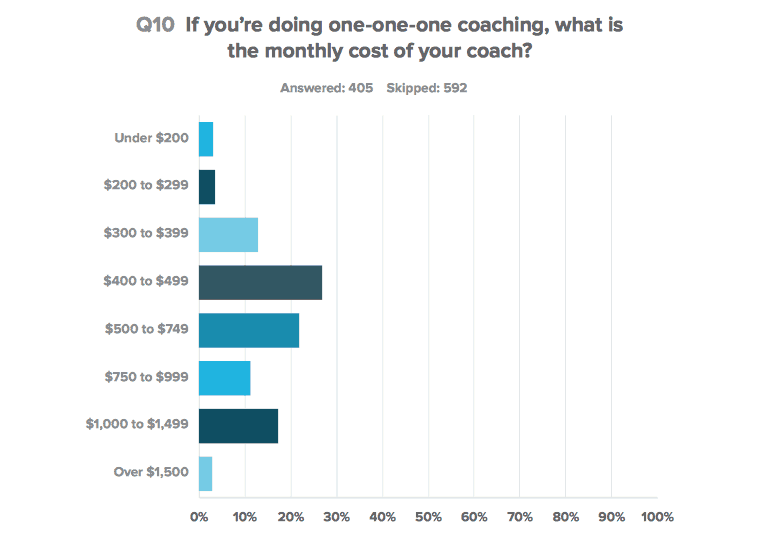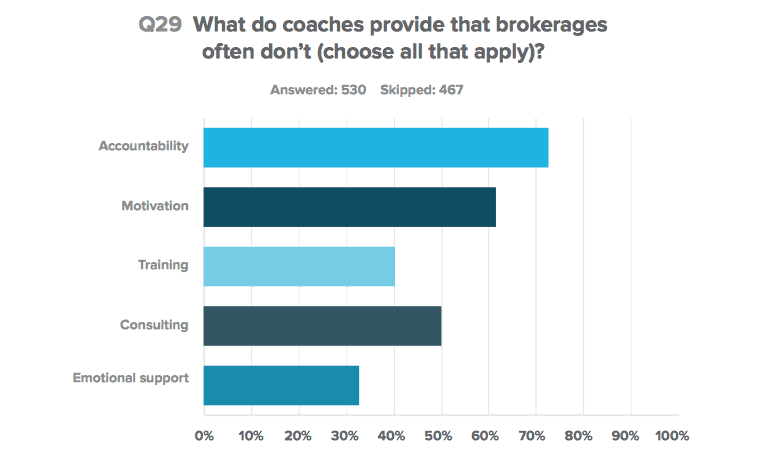 While the benefits of increased accountability, motivation, and mentorship are definitely reasons to hire a real estate coach, the main and only reason you should need to move forward is that hiring a coach will grow your real estate business. Look at the survey results - most agents paid between 300 and 999 for their coaching sessions. Let's say the average agent pays 650. Now let's look at the average returns on the investment - over 90% of agents with a coach saw at least a 10% increase, and over half of them saw at least a 25% growth in their business! (I'd guess that the agents who weren't seeing at least a 25% growth had ineffective coaches or did not take action on what their coaches taught. I'll go over how to find an effective coach in my next post)
It's simple math - If you're making just $50,000 this year, and next year you hire a coach, you'll pay an average of about $7,800 for yearly 1-on-1 training sessions. A 25% growth would make you an additional $12,500. If you are currently making $100,000, hiring a coach would generate another $25,000. Not only would a coach make you more money, but you would enjoy your work more and progress faster through the learning curve.
Why Some Agents Won't Hire a Coach
First, many agents refuse to hire a coach for real estate because they feel they are too expensive. Even though the results clearly show that you will get a good return on investment, I understand that initially, forking over the money is painful. It all comes back to trusting and believing that investing in yourself is the best investment you can make. If you do your research, hire the right coach, and then make the most out of your experience, you can trust that you'll see results.
Another common misconception is that coaching is effective for beginners but not experienced agents. In contrast to this belief, I've noticed that the most successful of real estate agents are actually more likely to have their own coaches. Even professional athletes, performers, and CEO's have mentors. My real estate coach and my team leader both still had their own coaches - even after 15 years in the business. This goes back to what I mentioned at the start of the article - incredible people learn from other incredible people.
How to Find an Effective Real Estate Coaching Program
The return you'll see from coaching greatly depends on the quality of the coaching program. You don't even really need a "professional coach" to receive the results you are after! That coach could come in the form of your team lead or an experienced agent at your brokerage who's willing to work with you (although, in most cases, I would advocate for professional coaching because most brokerages don't offer the same benefits). What's important here are the processes that they follow to help you build your business.
My next post will talk about finding an effective real estate coaching program - whether that's through a formal program or not - and how you can make sure that the experience is worth your time and money.
‍