Hannah, can you tell us a little about yourself?
My name is Hannah Bettenhausen, I am the Director of Operations at Anytime Mortgage LLC and the Chief Operating Officer of the Brandenburg Crew | EXP Real Estate based out of Fargo, North Dakota.
What's your team structure look like?
So our real estate team is managed by a sales manager; he oversees 14 agents in 3 different locations.
We have an is a team of about 9 is as. 2 TCs and a listing coordinator, and then we have a managing team that oversees both a real estate team and our mortgage company with a Co-CEO, Director of Finance and Director of Operations.
Then, the mortgage company has a lead mortgage officer to close on top of that, and then three processors.
What does your production look like?
So on the real estate side of things, last year we did 394 transactions. We did just over $100 million, and this year's goal is roughly 440 transactions for about $130 million.

On the mortgage side of things, last year we did about $43 million in loans and then this coming year, our goal is $30 million—so we are are always redirecting and refocusing on what we're trying to do to stay on top.
What is it like balancing the agent side and lender side of your business? Are you seeing big benefits by having that ancillary business attached to the real estate team?
It's really great actually. I would say about 70% of our business on the mortgage side comes from our real estate team.
And there's a lot of co -working that happens; a lot of leads that come back and forth between the two.
So let's say one of our agents brings a business to the yellow and yellow is able to capture that but for some reason the agent isn't. At least we're able to capture some of that business somewhere within our companies.
And vice versa, sometimes our fellows can't win the transaction. Whether it's interest rate or options that come with that financing, but our agent is able to win that client over and still help us get that client via home.
On top of that, the co-marketing helps. Our dollars go so much further, because we are able to co-market and we can up the amount of Zillow spend that we have or, it brings up that business back and forth with each other.
Can you tell me a little bit about your tech stack?
In my opinion, less is more.
We really only use a couple different things.
KW Core for lead generation and our CRM.
Sisu for

transaction management

Skyslope (integrating with Skyslope) for the broker-tracking of things because it's required.
But truthfully, we use Sisu and KW Core for all of our tracking and lead generation.
What were some of the challenges you faced before using Sisu?
We were using excel sheets to track our transactions.
There's so many different ways of doing things in Excel, so our activities weren't consistently being tracked, our conversion ratios weren't being tracked accurately.
Our data was unknown; we used like Excel / Google Sheets, but we were also using Air Table.
Then, we merged dashboards with those and it was just kind of a nightmare.
I kept thinking—there has to be a better way and I'm going to come up with it myself.
Sure enough, I stumbled across on Facebook someone talking about Sisu. I remember thinking, "Hm...What is this?"
I'm so glad I didn't have to create it myself, because it would have been a mess, but it was really awesome to see something like Sisu that brought all the pieces together.
Then, I can have my activity trackers and have my transaction management piece of it.
My TCs can now go in one place and just enter the information and track all of their clients in the ones place—so it's pretty amazing.
I needed something that the rest of my management team and even my agents could buy into and something that they can look at and be motivated.
I had been looking for something already and we actually did it as a secret for our owner of a company—he had been complaining for a while, too, so we worked on data entry—while we added all of our past years of data in there, and then we brought it up to the team at one of our quarterly meetings and introduced it to everybody!
Everything began to be tracked in there. We could see it so prettily and instantly. Then, we purchased the big screen TVs for the office.
We then began sales contests and competitions! Agents were making fun of each other, we've made people take silly photos as groups; they were having fun and working hard.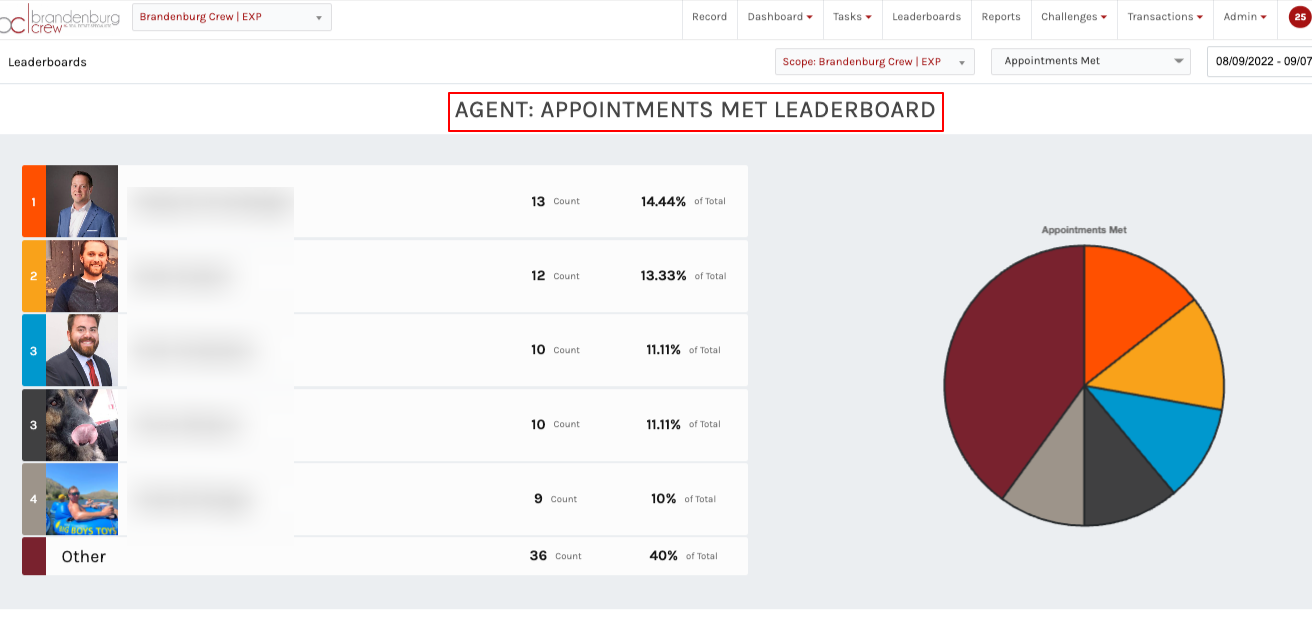 So we had a big buy in with Sisu from the whole team.
Have you seen any tangible results since implementing Sisu?
So when you're growing, you have these like growth spurts, and then you kind of level off.
We had leveled off so in 2019—we did roughly 325 transactions.
That was the third year in a row that we did 325 transactions or 321 and we just like had stalled when you're trying to figure out what it was.
In 2020, we actually did 100 more transactions that year, and I believe it was better tracking—so we could better hold accountable to conversion rates and see what pieces that our agents are missing.
And it also came back to having a way better manage our systems.
The last few years we've been focusing on lowering our marketing spend because for us, our conversion rates and ROI has spiked because we're putting more money into places that are being more financially beneficial for us.
We brought our business from probably about 80% buyers to 20% sellers to 50/50 because now we're focusing more on sellers being more aware of that's where it was lacking.
We've also been able to improve our appointment set-to-met ratio by 30% in the last year just focusing on our ratios, and what we can improve on in those areas.
Have you noticed or tracked any improvements with the TC side of your business?
So we actually just brought in almost an entire team of new TCs.
All of our old TCs have elevated to different positions within the company until we brought in a whole new team.
The speed at which the new TCs learned the process was cut in 1/3rd of what it used to be; they just picked up the process so quickly.
Because they had something (Sisu) telling them exactly where they need to go and what they need to do.
What do you like best about Sisu?
The way I can manipulate the data and the dashboards to help improve things.
Also, being able to communicate to my team in a user-friendly way that motivates them.
What would you say to someone who is considering Sisu for their real estate business?
It's one of the best investments that you can make.
And you need to know your numbers, and this is the best way to get to know your numbers.
Hannah, where can we find you?
If you are looking to buy or sell in North Dakota, the Brandenburg Crew | EXP Realty website is https://www.bchomestoday.com/.

We also have a Facebook page.