JD, can you tell us a little about yourself?
So my name is JD. Reese. I am the Team Owner of The Genuine Group here in St. George, Utah.
We are a small, nimble, and efficient real estate team; and we're tech-focused, customer driven, and we do things a little bit different.
We're a little bit less corporate and more a connection-focused company.
What's your team structure look like?
Right now we are growing. I would call ourselves pretty fresh team.
We have all of our groundwork in place.
I am the team owner, so naturally I'm wearing many hats right now.
Like I said, we're super nimble. We're like a pretty smaller team, but we are actively expanding and choosing to grow and scale our company right now.
We also have a TC in house that lives inside of Sisu and definitely helps quite a bit with keeping our contracts right online with where they need to go.
What does your production look like?
So last year was the groundwork for building the team. The Genuine Group kind of came to fruition last year.
We did just over 50 deals last year. This year, we're hoping to double that.
With some of the new agents, we're probably going to be honestly hitting closer to maybe 75 transactions this year, but right now, we want to shoot for the 100 transaction mark, which is the small help that we have right now.
If agents join on sooner, then maybe that number will go up, but right now, it's kind of where my prediction is at with everything.
Can you tell me a little bit about your tech stack?
Our tech stack is Follow Up Boss, Ylopo, and a ton of re-marketing.
We're also doing our own advertising, being essentially hyper-local to our area.
We run our own advertisements there. We're also using Sisu, obviously, that's why we're here as our transaction management as well as our accountability software.
And we actually pair Sisu with another program called Optimum, which dives deeper into the type of lead and how soon it was followed up with.
There's a little bit more detail there that goes into it. We pair all this up with a bunch of different automations and connections and Zapiers that we've built in house.
And when I say we, I built in house.
So I guess that's a benefit of being a smaller team and really laying out the groundwork right now is I'm able to focus in on the business pretty much every single day and pinpoint things that can be improved and immediately improve them.
I know that larger teams take a while to get things lined up to change, and it's a big change within their industry or within their team to get those things done.
Right now, being a small and nimble team, it allows us to just quickly and easily say, "Hey, this is the problem."
And we're immediately going to fix it. By the next day, we're working it.
It's in the systems: we put the time and it happens.
So that's one thing I really appreciate about being a smaller team right now. However, we do plan to scale up.
Things will change as we bring on more people and administrative help to take a look at everything.
But right now, I'm really enjoying the process and enjoying the journey.
Growing a real estate team has been one of my most favorite things I've ever done, and I've owned a lot of businesses, so this one's been really fun.
Do you feel the sweat equity you're putting in now to leverage these technologies is going to give you a leg up in terms of scaling, growing, and recruiting agents to your business?
I'll be completely honest. I'm interviewing agents about 2-3 times a week and one of the very first things we bring up is how we measure their success and how we keep them accountable.
One of the very first things we talk about is our accountability tracker and Sisu for being able to be like, "Hey, if you want to make X dollars, here's exactly how many conversations you need to have and how many contracts you need to sign, how many appointments are to be expected."
We can see it every single day and it's up in the office.

We have it on the big screen and as agents join on, it becomes a little bit more of a competition.
We use that and a couple of other things to measure our success on.Having these systems in place, I'm able to say to them that :
We have every automation to cover your butts, we have every way to keep you accountable.
I think this philosophy really draws in these newer agents, as well as agents that are been in the industry that have never had the accountability or the mindset to be able to have the success, are with me they are finding that success.
So it's been huge. Honestly, it's been one of the best things that we've implemented, especially with Sisu, these changes that we've been implementing that basically improve agents' lives.
Let's be honest, going in and prospecting every day can be super mundane.
So if we can alleviate some of the 'mundaneness', I guess is the word, like that is a big win for our agents and it's a big win for our small team.
What were some of the challenges you faced before using Sisu?
From day one, I knew that I needed Sisu because of my past experience in business.
I worked for a builder for five and a half years and I did 150 transactions a year. I was able to keep up with the amount of transactions that I needed to accomplish and keep it all in front of me.
And that was easy, right?
Those are my transactions. It's my system, it's my business. Easy.
I immediately realized that if I want to bring on real estate agents, I need a better system to be able to keep track of their transactions.
So one, it was originally a transactional thing, and then on top of that, I was thinking to myself, okay, well, I want the people I hire to have a six-figure business.
It's huge for me to have that. So how can we break things down to the most basic level of what's required to get a six-figure business?
Another thing was that it syncs up with Follow Up Boss. It makes my life easy. I can have a meeting once a week with each agent and just say, hey, here's where you're at with your numbers.
The Agent Accountability report is great for that.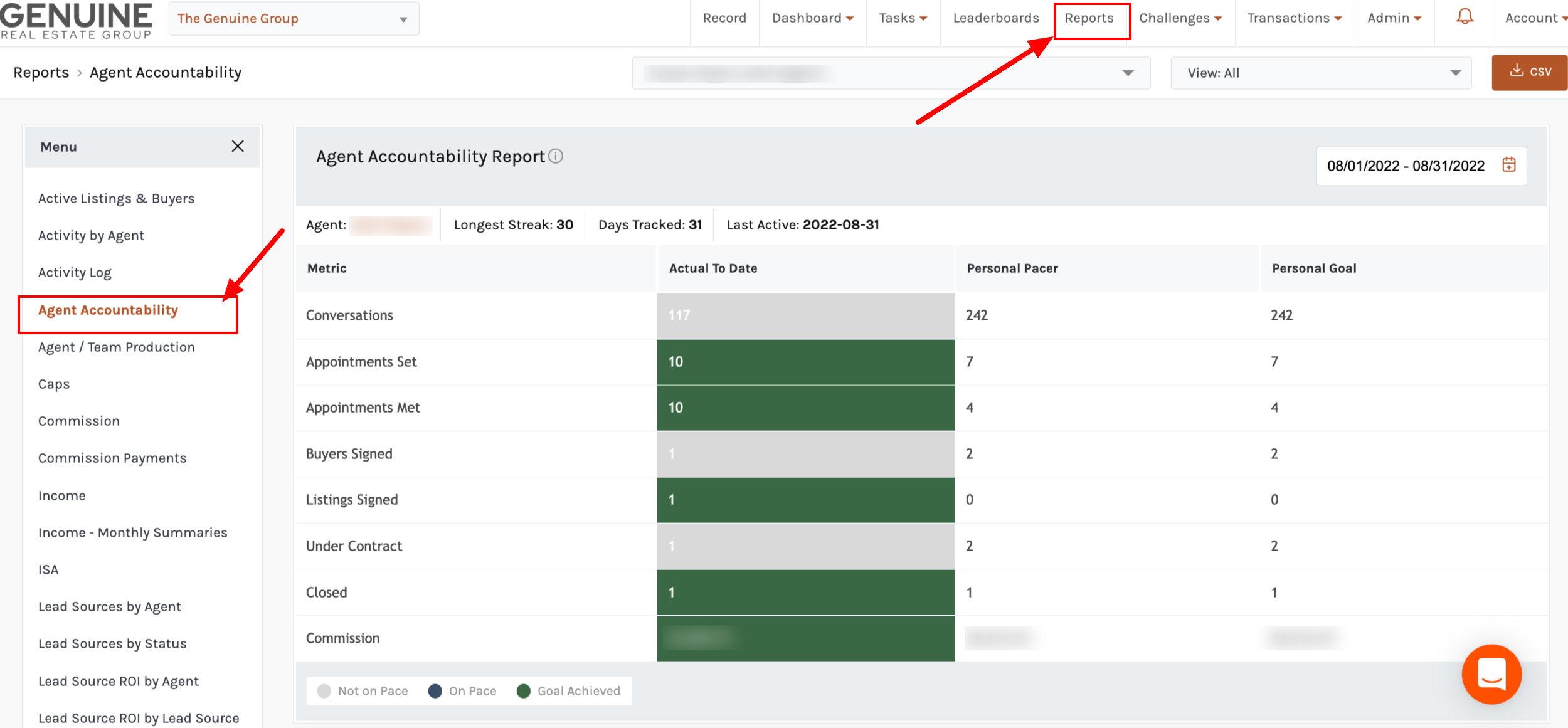 We'll have quarterly meetings or monthly meetings. We've implemented quite a bit of meetings, but we check it, we watch it, and those metrics are things that are super important to us.
Coming from a huge transactional business myself, I realized there was no way that I can do all of that just by myself.
I'm still in production, so I'm still producing homes. I'm still showing house. I'm still selling homes. I plan to continue doing so for a while.
But there was no way to keep track of mine (as well as everybody else's) is just it wasn't going to happen. That's why I got Sisu.
Have you seen any tangible results since implementing Sisu?
The biggest tangible result of Sisu is with our TCs. They absolutely live and breath in Sisu.
There's never a question of what needs to be done. It's all there.
We took the time to organize our tasks, sat down with my TC, and I asked her, "Hey, what are you comfortable doing? What do I need you to do? Let's find a spot in the middle."
So because of Sisu, there's never any gaps in our transaction management.
We know what needs to be done, the agents know what needs to be done.
We have a task list for them that we populate into Follow Up Boss. That's specific to the agent, because I want my agents to live in Follow Up Boss.
And then my TC lives in Sisu so that's huge.
It's been a huge time-saver for everybody involved, especially the "initial contract" part of the transaction has been great in Sisu, just because all the details are there and little things, too.
Like, I needed to know a contact who wasn't my file, but I had to go address an issue, so I simply just went into Sisu and found his contact and called him.
So stuff like that has been huge, where we can just go in and just see where everything's at.
The accountability side is huge too, knowing that I have to talk to my agents and just say, here's why you're failing, and here's why you're succeeding.
Having concrete evidence behind me is completely tangible, as in "Here it is, here's the evidence, here's why it's working."
And nobody can lie. You can't fudge your numbers.
This is what it is right now. So that's been huge.
I think those two things paired together make Sisu completely worth it. And I love the culture. That has been awesome.
Everybody on the Sisu team has been super helpful. Just the coaching and the community that's connected to Sisu has been really cool.
What would you say to someone who is considering Sisu for their real estate business?
If you are considering Sisu and you don't yet have accountability or transaction management systems in place in their business, and you are thinking about having a team like I was a few years ago—you need to have those systems in place because you're going to hire agents, go into training them, and have them do deals, while also coaching them on those deals.
Without systems, you're doing it blind at that point.
Sisu allows for team owner agents to have the insight on their agents up-to-the-minute performance.
And if you don't have that as a team owner right now, I don't even know how you're running your team. You got to know where your numbers are at.
Not only does it help with the accountability portion of real estate agents, but I get to track what lead sources are making me the most money and then double down on those.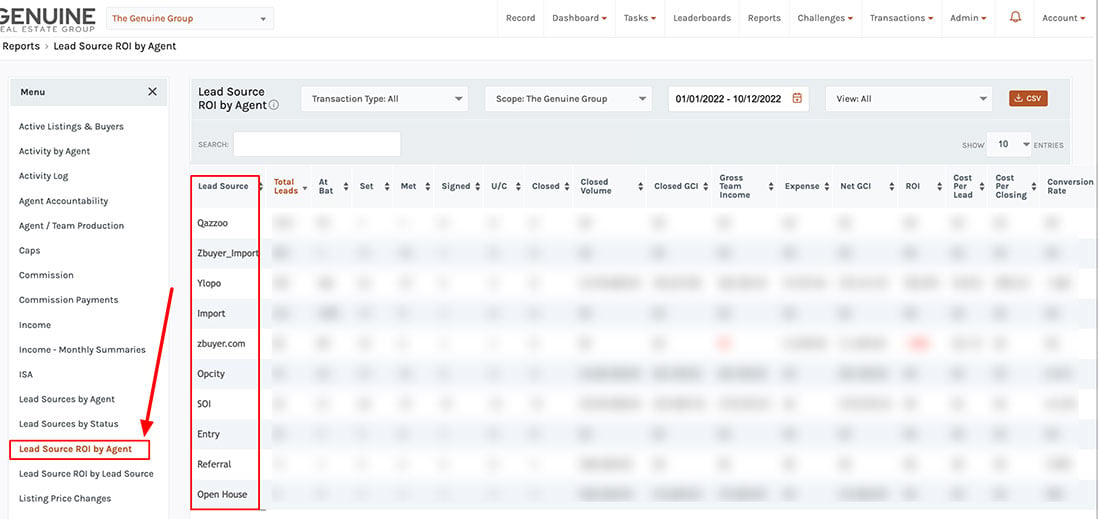 And in this shifting market, if you don't know what lead sources are making you the most money, you're shooting yourself in the foot.
And then on top of that, just the transaction management is great.
JD, where can we find you?
If you're looking to buy or sell real estate in Southwest Utah, our team's website is https://genuineutah.com/
We also have a Facebook Page.