Why does increasing your agent headcount matter? Let's do the math
The most effective way to demonstrate why you should increase your agent headcount is through numbers.
Here are two hypothetical situations.
Example A:
You have a team of 7 agents.
Of the buyers and listing appointments met, on average, they close 10% of the deals.
If every agent does 100 buyer/listing appointments in a year, then based on 10% closing ratio, they would close 10 units.
7 agents x 10 units, 70 units per year.
Example B:
You have a team of 70 agents.
Of the buyers and listing appointments met, on average, they close 10% of the deals.
If every agent does 100 buyer/listing appointments in a year, then based on 10% closing ratio, they would close 10 units.
70 agents x 10 units = 700 units per year.
As a team owner, depending on expenses and your agents' GCI, you can easily see how increasing headcount correlates to an increase in production.
That remains true even if some agents' conversion rates go down.
The larger your team, the more you can afford for agents to take off or have a bad month.

In a team of 7, if 2 agents don't perform, that might hurt the bottom line, but in a team of 70, if the those 2 agents don't perform, it doesn't have a drastic impact on finances.
A real-life example of successful scaling of a team's agent headcount
One of my favorite examples of a team owner 'Scaling Up' their business is Spring Bengtzen, Owner & Founder of Utah Life Real Estate Group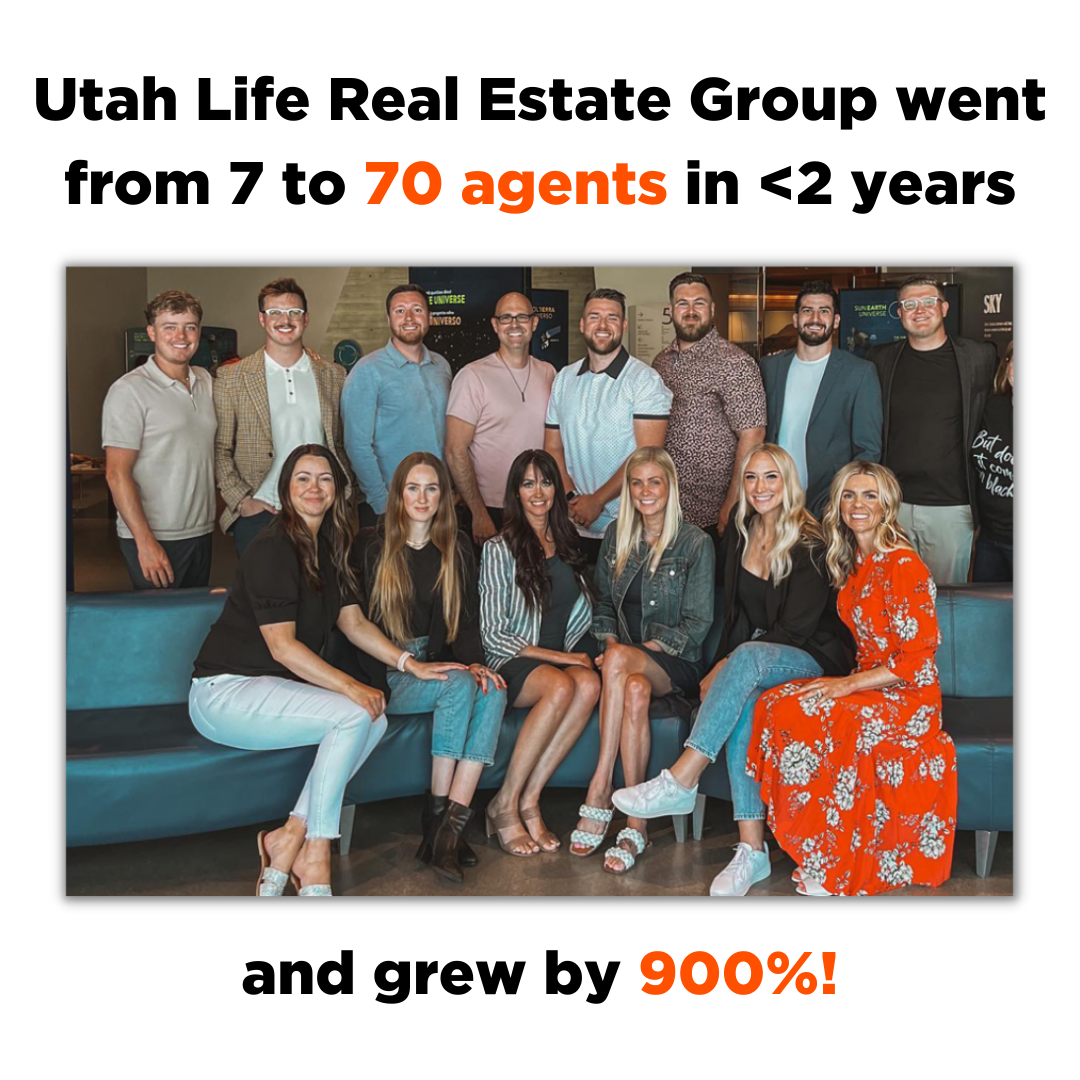 Currently running one of the top producing teams in Utah, Spring and her team sold over 450 homes in 2021 and are on track to sell over 750 homes in 2022.
In total, Utah Life has done over $800 million in production.
Below I'm going to cover some of the ways Spring has successfully scaled her team over the past 2 years.
How do you successfully scale your team's headcount?
There's no one 'right' way to scale your team's headcount, but success certainly leaves clues.
These tips on attracting agents to your business come directly from Spring's past presentations.
1. Ads
The first way to attract new agents is through ads. Whether they're on YouTube, social media, or Google Search, the ads need to effectively entice an agent by quickly and succinctly communicating your team's value value proposition.
Answering the question: What will they gain by joining your team?
Here are some example ads from Utah Life.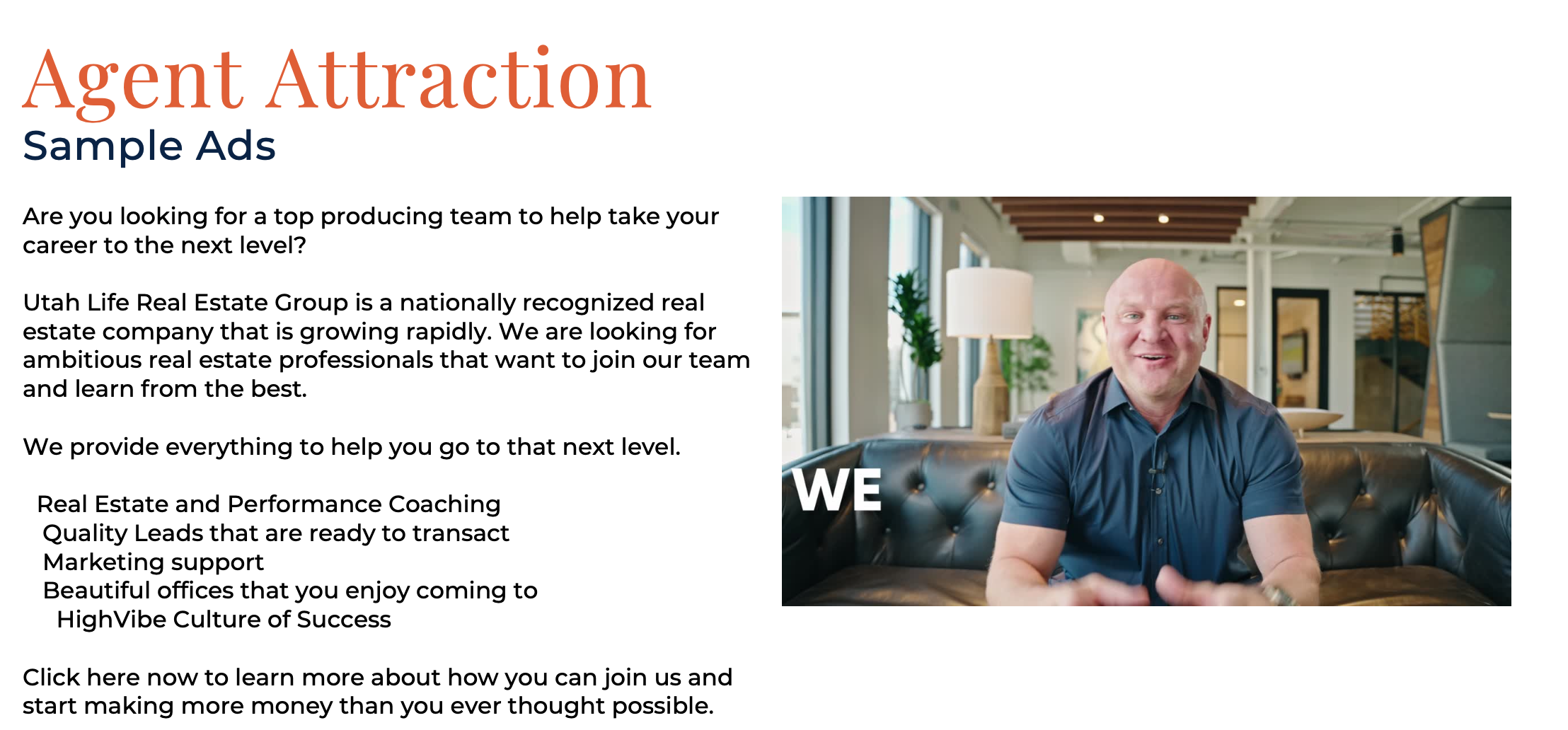 All of the ads I reference in this section were filmed as video ads.
In this first one, team lead Justin Nelson asks the question: Are you looking for a top producing team to help take your career to the next level?
If you leverage this format, this is where you as a team leader can let your team's culture shine, and tell them what you're offering.
Utah Life's value proposition:
Real Estate and Performance Coaching
Quality leads that are ready to transact
Marketing support
Beautiful offices that you enjoy coming to
HighVibe Culture of Success
The Call-to-Action (CTA) on the ad is, "Click here to learn more about how you can join us and start making more money than you ever thought possible."
Seems to me like an agent hungry for success would click the ad, right?
2. Virtual Assistants
If you aren't already utilizing virtual assistance in your team's day-to-day, you should be.
Last week in our Sisu Spotlight of Mahala Landin, she touched on how she was able to scale her business and replace the workload of a full-time employee with the help of VAs.
So much of an agent's time can be potentially wasted on manual data entry and entering duplicate data into disparate systems.
When you use VA's, you are increasing your agents' bandwidth and allowing them to focus on nurturing leads, having conversations, making appointments, and most importantly—closing deals.
If you utilize VAs, this should absolutely be a selling point when you are attracting new agents to your business.
3. Scripting
This is probably a no-brainer, but if you are trying to attract any 'new' agents with little-to-no experience under their belts, providing scripts for the conversations is paramount to success.
Once you find a framework that works, all new hires can utilize the script and start having tried-and-true conversations right out of the gate.
4. Reporting
For reporting, there's lots of options, but Spring's entire team leverages Sisu for their reporting and agent 1-on-1s.
Agents can see in real time how many conversations they've had, appointments set/met, etc—all from within Sisu.

Specifically for coaching agents during 1-on-1s, Spring utilizes the Agent Accountability Report.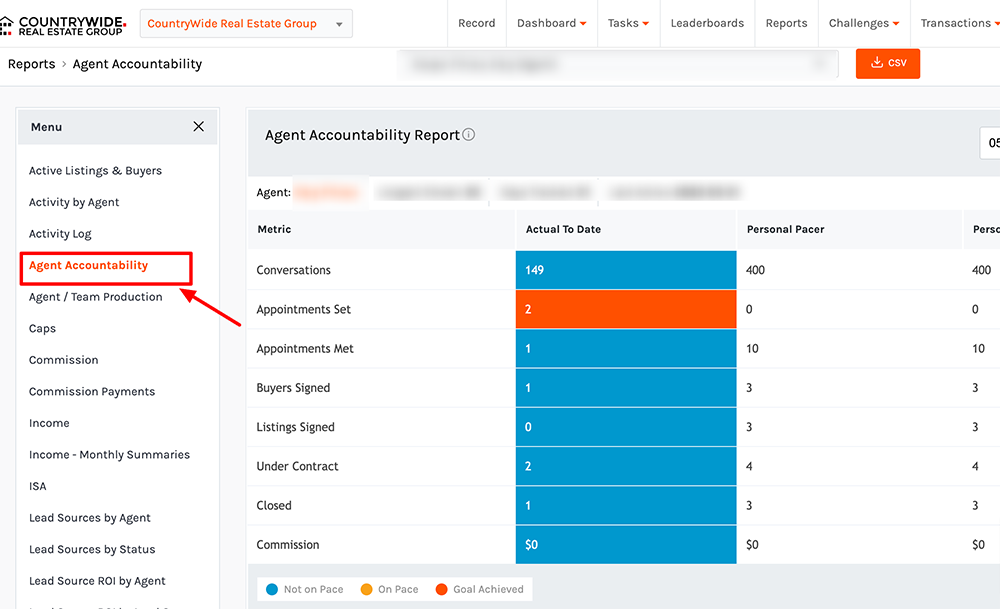 She has the agents take her through all the data and self-report, ensuring they take accountability and ownership over their metrics.
5. Celebrating wins
Lastly, you need to celebrate WINS! Especially as a team.
Whether it's Slack, Teams, or another messaging service like WhatsApp or Telegram, you need to have a central place where everyone can be together for work-related chat.
Just take a look at how Spring's team celebrates an agent going under contract in Slack!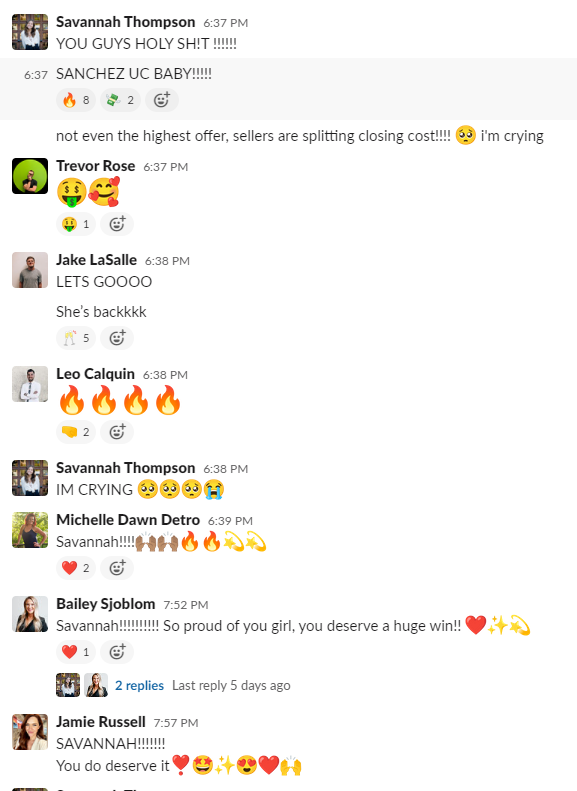 You can help attract agents to your team by showing them that you have an engaged, supportive, and exciting environment to be a part of.
What is the best way to go through the recruiting process?
Once you have made the decision to scale your team's agent headcount, now it's time to begin recruiting.
So now you know the best practices to position your team's value proposition to prospective agents. Now how do you actually recruit them?
Spring's recruiting process at Utah Life is as follows:
1. Strategy Session
This is a 1-on-1 interview with the prospective agent. But instead of the 'standard' interview questions, you should really be getting a feel for the agent's goals and personality.
How much money do you want to make?
What are your goals?
How do you deal with difficult situations?
So on and so forth. If they pass this initial strategy session, they move onto the next step.
2. Shadowing
The next step is agent shadowing. The prospective agent gets to shadow a more experienced agent for a day-in-the-life, to really see what it takes to produce at a high level.
If they seem apprehensive at any point, it may not be a good fit. But if they seem eager and up for the challenge, they move onto the next stage.
3. HELLo Week
HELL-o week is where you as the business owner get to finally get an answer to the question: "Will they contribute to our team and culture?"
Keep in mind that even at this point, they are not formally hired. HELL-o week is a 1 week trial period, giving both the agent or the team owner opportunity to say it's not the right fit without any hard feelings.
In HELL-o week, the prospective agent must do:
200 Real Estate Conversations
200 Sphere of Influence
1 Open House
Seems like a lot of work, right?
But hear me out for a second. Spring wouldn't have successfully grown her team to 70+ agents in under two years if there wasn't a method to the madness.
HELL-o week is simply a test to see whether or not the agent will put in the required work— to not only meet their metrics, but to do what it takes to reach their goals.
4. Onboarding
Congrats! If the agent has reached this stage, they are officially hired onto the team.
With onboarding, Spring gets the agent completely onboarded into all software, tools, systems, etc. The main one being Sisu.
Then, getting them up to speed with the Virtual Assistant process is crucial as well.
Wrapping it all up
If you truly desire your real estate team to function like a business, then scaling is an absolute must.
You can't do everything yourself as a team owner. And there's only so much production a single agent can do before burning out.
So why not scale up? Round out your team's skills, increase headcount, and keep profit growing despite seasonality.